VR-514 is a thin film, air dry phenolic with excellent resistance to corrosive fume atmospheres and is particularly good in marine and salt air environments. VR-514 coatings are easy to apply and exhibit superior durability, excellent adhesion and good flexibility.
This primer-finish combination coating was recently reformulated for improved application properties and offers excellent durability, good adhesion with simple cleaning, good film building characteristics and flexibility. VR-514 is also perfect for smaller repair jobs on larger commercial rooftop units or a small residential do-it-yourself coil coating application.
VR-514 is available in an aerosol version (VR-514T) for those smaller "touch up" jobs such as Solder Joints, Finned Tube coil touch up, Fans, Duct Work, Copper Tubing and other maintenance projects.
Technical Data Sheets
Please download our datasheets for chemical resistance information​
Safety Data Sheets
Please download our SDS for more information​​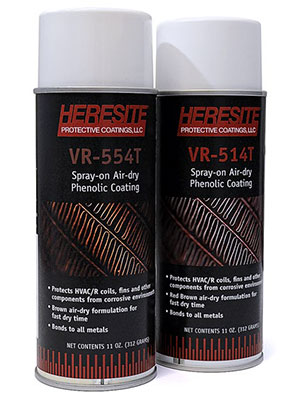 Recommended Maintenance and Cleaning Procedures
Download recommended maintenance and cleaning procedures for HVAC/R Coils or Radiators​
Use
Finned tube coils
HVAC/R equipment
Construction equipment
As a general maintenance coating
Environments
Marine and coastal applications as well as offshore
Moderate to the most severely corrosive environments
Combined marine/industrial environments
Color
Red
Brown
Grey (offered under product code VR-506)
Black (offered under product code VR-502)
Sample test data
Salt spray: ASTM B-117: Passes 2,000 hours as primer-finish. Passes 3,000 hours with UC-5500 series topcoat.
Bend test: ASTM-D522: Passes ½ inch mandrel
Thermal conductivity: <1% for finned tube coil applications
Food contact: Meets FDA 175.300 for indirect food contact