HVAC and Commercial Refrigeration Heat Transfer Coils and Unitary/Rooftop Equipment:
Heresite was the first company to apply corrosion resistant coatings to HVAC coils in 1954. It remains a leading coating option for HVAC-R and other heat transfer applications because of its minimal thermal loss, flexible and durable finish, and resistance to thermal shock and temperatures (from well below freezing to 400F). Heresite coatings not only provide protection in corrosive high salinity marine conditions, but industrial applications such as wastewater treatment, swimming pools, food processing, mining, oil and gas, semi-conductor production, pulp and paper, textile factories and other environments where these systems are exposed to chemical fumes.
Items coated include: Coils, Finned Tube Coils, Evaporators, Condensers, HVAC/R Units*, RTUs (pre-engineered rooftop unitary systems),  Air-to-Air Heat Exchangers, Refrigeration Coils, Fans, Blowers, Air Handlers, Duct Work,  and Piping.
Due to its superior bond strength and ability to perform in temperature extremes, Heresite protective coatings are also used to prevent corrosion of the entire HVAC unit (inside and outside surfaces). In applications subject to direct sunlight, we can also apply a UV protectant topcoat for extended product life.
Contact us for more information on how we can protect your entire HVAC rooftop or other unitary application.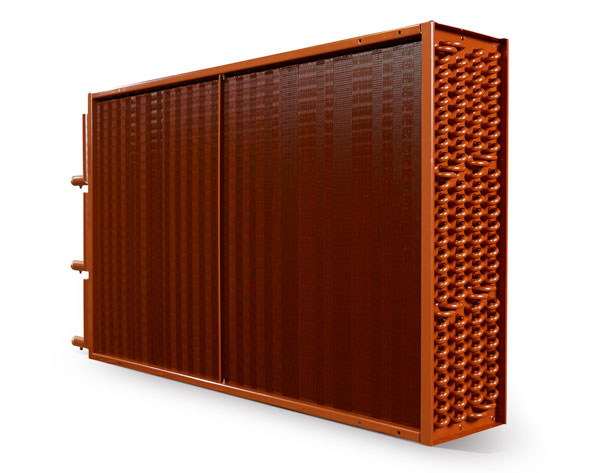 Industrial Process Equipment:
Compressor Rotors, Compressor Coolers, Valves, Pump Housings, Piping, and other types of industrial process equipment
Heresite Coatings extend the life of equipment multiple times, so there is a significant economic benefit to having Heresite coatings applied to your coils, radiators or other process equipment.  For heat transfer equipment, the impact on thermal efficiency is negligible with thin-filmed Heresite coatings, so no modification (i.e. sizing or other design element) is necessary.
*Heresite frequently provides upgrades to factory-applied coating on units destined for moderately or severely corrosive environments (marine/seaside, swimming pools, landfills, wastewater, mining, and industrial plants).  This service can include complete disassembly and coating of condensers, evaporators, all internal copper piping and other components as well as an upgraded topcoat provided to the exterior of the unit.
Contact us for a copy of our Heresite Chemical Resistance Guide and for recommendations on coatings to resist your chemical environment. Many Heresite Linings meet FDA requirements of 21 CFR 175.300 for direct food contact.
Heresite offers a range of coating products that are resistant to salt air, salt water, acid rain, hydrogen sulfide, sulfuric acid, ammonia, chlorine, hydrogen chloride, sulfur water, uric acid and virtually any other acid or alkali.
If you have questions about this process and how it can save your company downtime and money, please contact Heresite.
Radiators and Industrial Process Coolers:
Radiators, Charge-Air Coolers, Oil coolers, Fin Fan Coolers, Heat Exchangers, After Coolers, Intercoolers
Air Fume Handling Equipment:
Fans and Blowers, Fume Hoods, Dampers, Louvers, Grills and Duct Work
Typical Markets/Environments
Heresite coatings are commonly used in high salinity coastal regions, and in environments exposed to high humidity, corrosive chemicals and chemical fumes including but not limited to:
wastewater treatment plants
petroleum refineries
chemical plants
telecommunications and data centers
fossil fuel power plants
off-shore drilling platforms
pulp and paper mills
scientific laboratories, medical facilities and veterinary clinics
food processing and storage facilities
airports and transportation hubs
restaurants, convention centers, hotels & motels
shopping malls, retail businesses
swimming pool environments