HVAC-R & Radiator Protective Coatings
---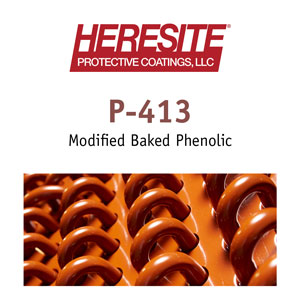 Heresite P-413 is a thin film, high performance coating used principally for coil and radiator heat exchangers as well as other air and fume handling equipment fabricated of light gauge metals. It is the first HVAC-R coil and radiator coating to meet the ISO 12944-9 (formerly ISO 20340) Standard for severe offshore marine environments. The corrosion resistance of Heresite P-413 coatings significantly extends the service life of HVAC-R (heating, ventilation, air conditioning, and refrigeration), and other heat transfer equipment.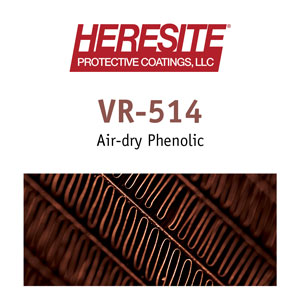 VR-514 is a thin film, air dry phenolic with excellent resistance to corrosive fume atmospheres and is particularly good in marine and salt air environments. VR-514 coatings are easy to apply and exhibit superior durability, excellent adhesion and good flexibility.
Industrial Baked Phenolics
---
P-403L HIGH BAKE PHENOLIC
P-403L high bake phenolic has been the industry standard for decades for the storage and transport of chemicals in rail cars and ISO/storage tanks. It is the optimum choice for your applications where pH< 9 is likely to be encountered. P-403L offers excellent resistance to solvents, acids and salts, including 70-98% sulfuric acid at temperatures up to 120° F.
L-66L HIGH BAKE PHENOLIC
L-66L is a phenolic coating generally used as a top coat over P-403L when a high gloss finish with good release properties is needed. Top coat for P-403L Coating.
EP-6379 BAKED EPOXY PHENOLIC
Designed for extreme immersion environments, with resistance to acids, alkaline, salts and water, EP-6379 is resistant to a wide range of pH environments found in fume control devices including acids, alkaline, salts and water. It is used in drill, process pipes and storage and ISO tanks.
Topcoats
---
UC-5500 POLYURETHANE
UC-5500 is formulated as a higher gloss coating and as a top coat for other Heresite Coatings. It exhibits outstanding UV resistance with excellent weathering qualities, along with good flexibility and good abrasion resistance. This two component coating is typically sprayed on the exterior surfaces of process equipment, transport vessels, tanks and structural steel.
Hydrophilic HL-300
HL-300 is a topcoat that reduces the contact angle of water exposed to the surface. This robust coating provides superior hydrophilic protection in high salt spray or immersion environments, reducing water carryover downstream from a wet coil or coil covered with condensate. HL-300 requires a bake to cure the coating, which provides additional durability.