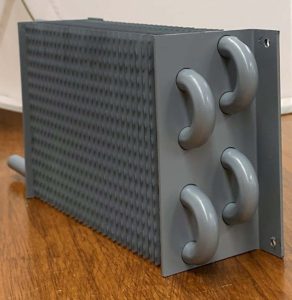 Product coated in gray.
Color is representative.
Heresite WB-506 is a low-VOC direct to metal coating that was developed as an update to VR-514. It exhibits excellent corrosion resistance, UV resistance and weathering qualities, along with good adhesion to ferrous and non-ferrous metals without complex pretreatment or primers. With multiple application options, including spray, dipping, or flooding, WB-506 offers excellent durability and salt fog performance. Additional benefits include good adhesion, good film building characteristics, and flexibility. This single component coating is typically applied on the internal and external surfaces of HVAC-R heat exchangers and related equipment.
WB-506 is specially formulated for marine/saltwater environments. It is splash resistant to a range of acids and inorganic salts.
Please download our datasheet for chemical resistance information.
---