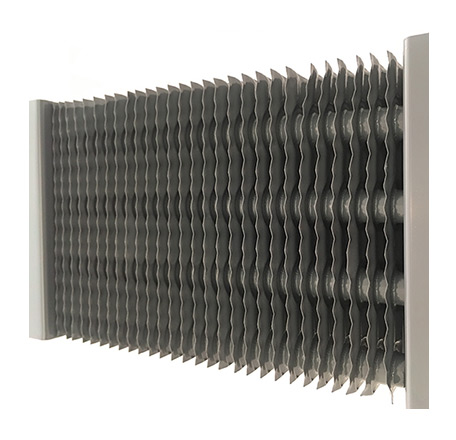 Heresite, a leader in the development of thin film corrosion resistant coatings, will launch ES-606, a spray-applied coating for HVAC-R coils as well as HVAC-R cabinets/components at the 2019 AHR Expo, to be held January 14 – 16, 2019 in Atlanta. ES-606 is designed for use as a standalone spray for coils, cabinets, and components (e.g. copper piping) or for use with Heresite's P-413 full immersion coil coating on components which cannot be oven-cured.
ES-606 has been tested to ensure some of the highest corrosion/environment resistant performance using the ISO 12944-9 (formerly ISO 20340) Cyclic Offshore Test protocol. The ISO 12944-9 (formerly ISO 20340 test) for C5-X environments cycles the coating between salt spray, UV radiation, and temperature shocks for 25 weeks (4,200 hours). ES-606 has been fully tested on aluminum, copper, and galvanized and has been found to deliver an unsurpassed direct-to-metal performance with just cleaning. No primers are needed.
"Heresite has been a leader in the HVAC-R coatings industry since 1935. We are proud of our chemists' continual commitment to developing the most durable HVAC-R coatings for a wide variety of the most corrosive environments," states Peter Hellman, General Manager for Heresite Protective Coatings.
Heresite is seeking applicators for this product. For more information about becoming a Heresite Approved Spray Applicator, be sure to visit Booth B739 at the AHR Expo.
About Heresite Protective Coatings
Established in 1935, Heresite Protective Coatings has spent more than 80 years developing and perfecting protective coatings that solve corrosion problems in a variety of applications including commercial heating, cooling, refrigeration or other industrial process coils, as well as components that are regularly exposed to corrosive conditions, including coastal and marine environments. The company's ongoing focus on technology leadership, rigorous quality and process control, and customer satisfaction has led to the development of multiple industry-leading coatings based on phenolic, epoxy phenolic, urethane and silicone chemistries. Heresite coatings not only provide protection in corrosive high salinity marine conditions, but industrial applications such as wastewater treatment, swimming pools, food processing, mining, oil and gas, semi-conductor production, pulp and paper, textile factories and other environments where these systems are exposed to chemical fumes.