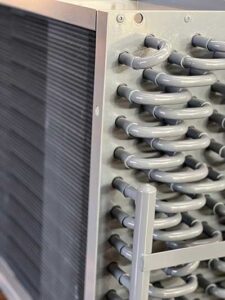 Let's be honest – industrial HVAC-R (heating, ventilation, air conditioning, and refrigeration) equipment is expensive. That's why we are exceptionally focused on creating ways to help protect your investment.
For nearly 90 years, Heresite Protective Coatings has successfully researched and created high-performance protective coating solutions to combat HVAC-R coil corrosion challenges. Any coil exposed to chemicals or salt spray should have a protective coating applied before they are put into service to shield it from corrosion. Our new water-based coating, HereShield, does just that.
HereShield is a gray, spray-on application used on heat transfer equipment and components. It is specially formulated for marine and saltwater environments. It is also splash-resistant to a range of acids and inorganic salts. This single-component coating is typically applied to external surfaces of HVAC-R heat exchangers and related equipment.
Applying our HereShield protective coating:
Eliminates corrosion of HVAC-R coils
Lowers maintenance costs
Reduces production downtime due to unexpected failures
Optimizes the performance of your units
Saves time and money
Better for the Environment
Because of Heresite's unwavering commitment to the environment, HereShield was developed as a sustainable water-based protective coating. Which is eco-friendly, easy to apply, and safe for applicators and consumers. HereShield is considered a low VOC (volatile organic compound) which helps reduce air emissions, improves air quality, and has no strong odors during application.
Better for Corrosion Resistance
HereShield provides excellent corrosion resistance, UV protection, weathering qualities, unbeatable adhesion to ferrous and non-ferrous metals without complex pretreatment or primers, durability, and salt fog performance, outstanding film-building characteristics, and unmatched flexibility.
Better for You
Heresite prides itself on total performance every step of the way, from your first phone call through project completion. We take care of you. Our leadership embraces cutting-edge technology, impeccable quality and process control, and our strong focus on complete customer satisfaction is all a part of our commitment to you.
Have some questions? Let's talk protective coatings! From air-dry coatings to baked phenolics, Heresite has the proper processes to suit your industrial equipment perfectly. Check out our website, give us a call at (920) 684-6646, or reach out with a question. We've got you covered, literally.